In this section, our co-founders Christoph and Patrick introduce Retorio and tell you why using our AI was a great decision
Dear Futurist,

Welcome to Retorio! We are glad to have you on board!
We founded Retorio in 2018 out of our PhD-research at Technical University of Munich with the goal to combine psychologic research and Artificial Intelligence in order to help people activate their best self.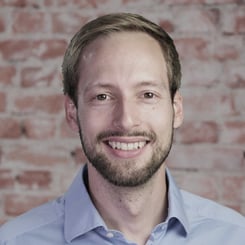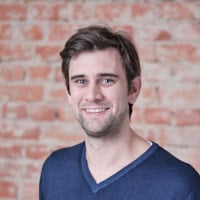 Our co-founders Christoph & Patrick

Well, in the beginning we mostly aimed at helping our students and ourselves to become better at communicating and expressing our personality in the classroom. Yet, on the way, our little project has taken some unexpected turns, and now, a few years later, we employ an international team and ship a groundbreaking AI to clients around the globe that helps them select great people and activate their best self.

What is a person's best self and how can it be activated? We strongly believe that
when working on tasks that accentuate personal strengths,
when being surrounded by the right group of people,
and when experiencing a matching work culture,
every person can accomplish extraordinary things.
Unfortunately, such conditions are rarely in place and only a few people work under conditions that allow them to live up to their full potential.
People perform best in teams, when the personalities of the individuals involved enhance each other. They achieve greatness, when they perform tasks and experience an organizational culture that activates individual and collective strengths.
A specific team constellation might be the result of chance, but the factors that determine whether or not the team is successful are mostly deterministic.
It all comes down to matching people with fitting tasks, team constellations, and an organizational culture that enables them to activate their best self.


As a business leader you can either (1) hope that you (continue to) make lucky HR-decisions, or (2) you start looking for deterministic factors that enable you to identify and develop talents in a way that leads to sustainable success.
By signing up for Retorio you obviously decided to follow the second path, and we would like to compliment you on this decision.
Retorio's purpose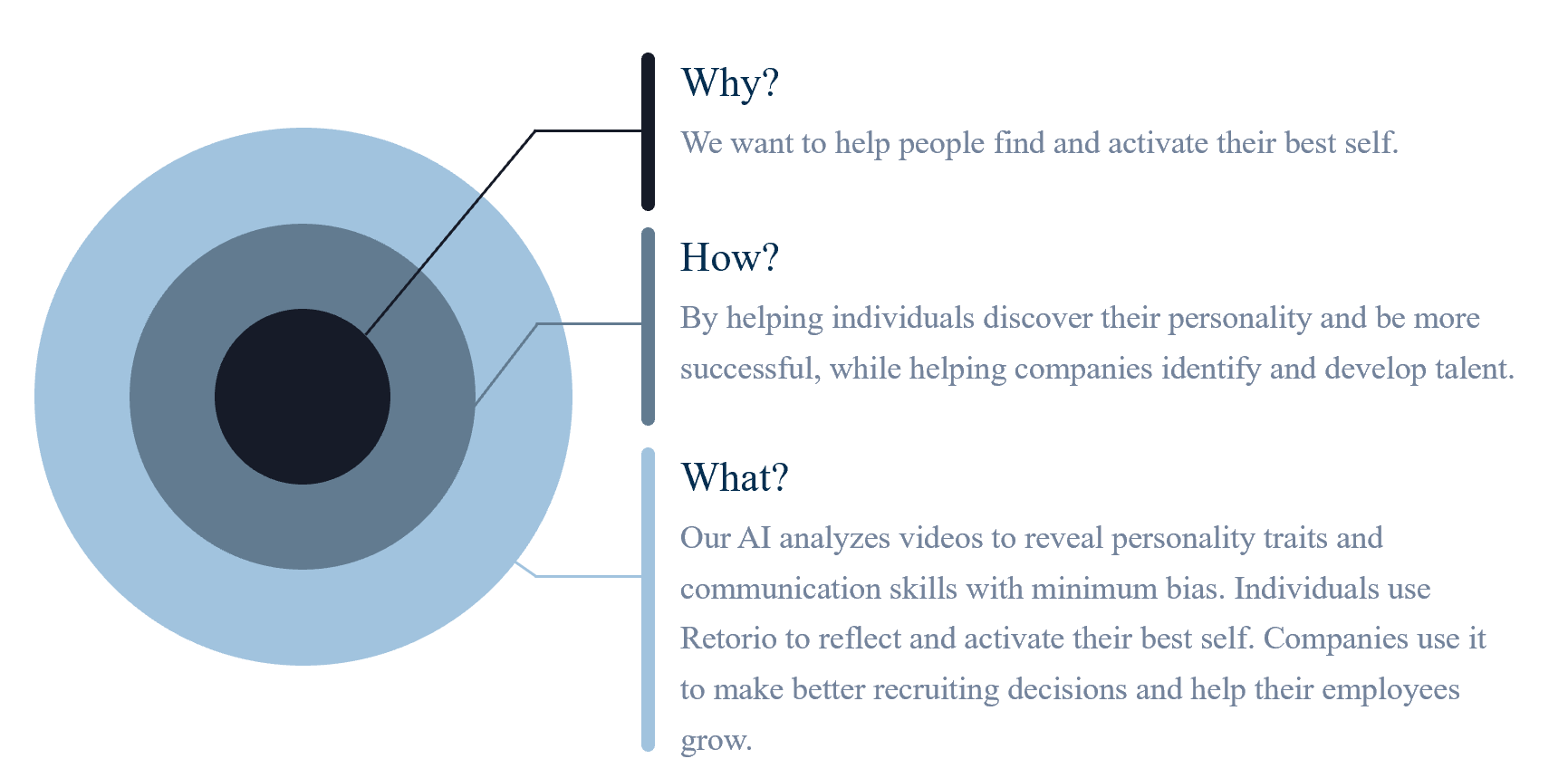 Clearly, finding the right tasks, teams, and organizational culture for a person poses challenges. Business researchers and psychologists across the globe have spent many decades on exploring the intersection of personality, competencies, tasks, team structures, culture, and performance. They have reached some fascinating conclusions. Yet, the complexity of the matter has limited the impact of their research.
How can any human being consider for all the factors that need to be considered when matching people with open positions, teams, and organizational culture?
That's where Retorio comes into place. Luckily, we now have access to groundbreaking technologies that can cut through complexity. Retorio, our own proprietary AI, has been trained to predict human traits and skills based on thousands of analyzed videos of people in various settings.
From scientific insights as well as from datasets generated through scientific projects and Retorio's active user base, our AI has learned to objectively measure soft factors (such as personality and soft skills) that humans tend to process subconsciously and that are prone to biases.
Retorio can predict how a person will behave and perform in various tasks, team constellations, and organizational cultures. It helps identify environments in which people can activate their best self.
We are convinced that technologies such as Retorio will revolutionize the way in which firms identify, develop, and retain talent. Our AI already accompanies employees throughout their whole career.
We help...
people discover their personality and look for promising career paths that enable them to activate their best self
firms identify the perfect match for open positions
new employees get fit for their job
employeees to develop into leaders
Our clients are aware that AI is still in its infancy and not free from errors. Yet, they want to take part in our vision and they see that the potential of our technology is almost unlimited.
They actively take part in shaping the technology and they benefit from being early adopters by gaining deeper insights into their organization and all the factors that make their organization great.
We are curious to see where our journey leads us. Anyways, wherever that may be, we are happy to have you on board with us.

Best regards,

Christoph and Patrick
_____________________


Wrap-up
Now that you know our mission, we'll give you an overview over Retorio's most important features.