In this article we show you our video interview recorder and tell you how to use it
Retorio conducts video assessments through its flexible video interview recorder. The participants of your assessment open the recorder through an email with an access link. Alternatively, they might find the recorder embedded into your website.
In this article you will get some insights regarding Retorio's user experience. You will learn how:
This short video will show you our video recorder and its most important functionalities:
Basic Instructions and GDPR Compliance
The first page of the recorder gives some basic instructions. These instructions can be shown in several languages and they can be customized (please contact service@retorio.com for customization requests).
The language of the recorder automatically switches to the user's browser language. Retorio currently covers English, German, and Spanish instructions. For all other languages, the recorder automatically switches to English. However, users can also manually change their language settings by clicking the world symbol on the top right of the recorder.
If the contact data function in the video interview configurator is enabled, users will be asked to submit their name and their email address before starting the assessment.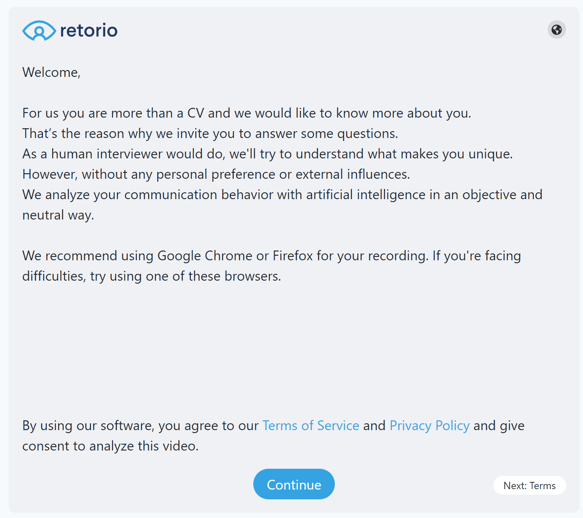 Before starting the video assessment, users have to agree to Retorio's terms of service and privacy policy. Please note that Retorio is GDPR compliant and that we take our users' privacy very seriously.
Important!
The video interview recorder works best with the most widely used desktop browsers (Chrome and Firefox). Users might face problems to record themselves with Safari, Edge, Internet Explorer and mobile browsers. Please consider giving your users this information when you invite them for an interview.

Ensuring High-Quality Videos
The recorder assists your users in sharing their webcam and microphone and tells helps them position themselves in front of the camera in order to ensure a high-quality recording. This test run will provide your users with additional information if they face technical problems.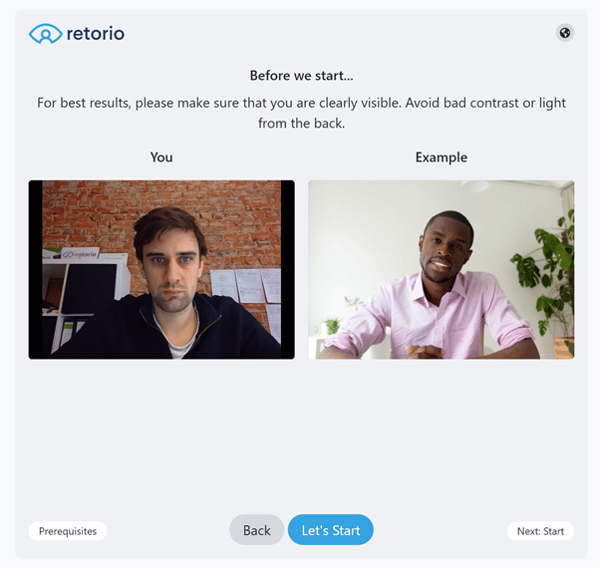 Video Interview Questions
When the actual assessment starts, your users will answer the individual questions that you configured for this interview.
Your users can either directly answer questions by recording themselves on video, or they can upload a finished video through the upload button.
The maximum length of a video recording and the number of attempts that your users have before they have to submit a video is determined by your questionnaire configuration settings.
While recording themselves, your users will always see how much time and how many attempts they have left.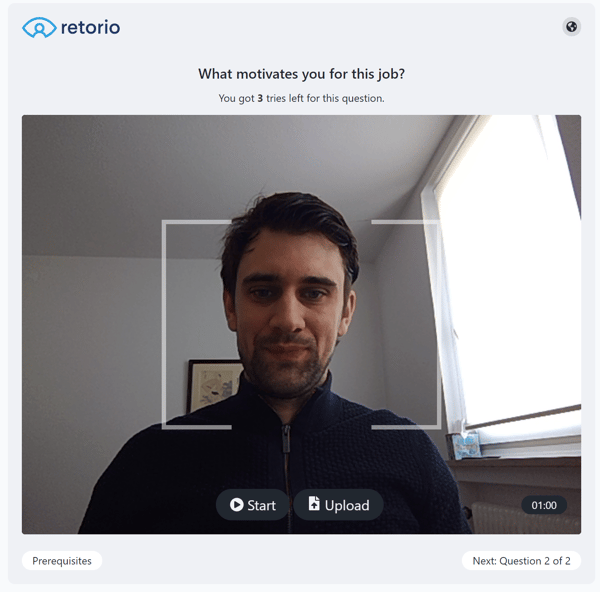 Before submitting a video, your users can review their video and decide whether to submit it. If they feel they ca do better, they can record another video, assuming that they have any additional tries left.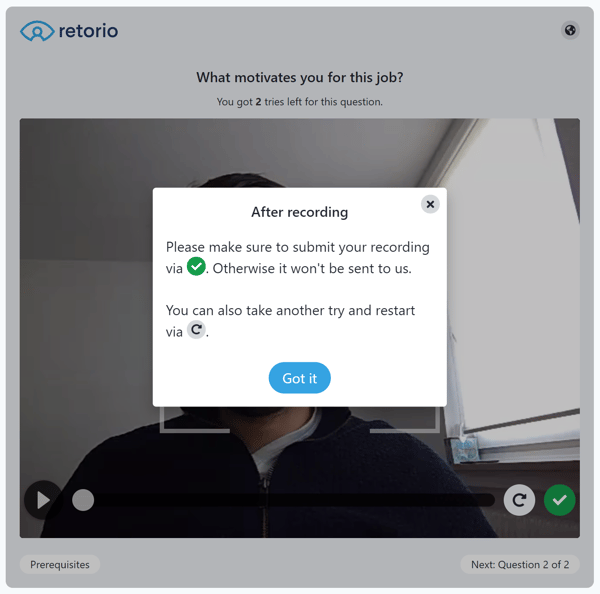 What happens next?
As soon as your users have answered the last question of the assessment they will see a thank you message informing them their interview session is over and that their video has been submitted successfully.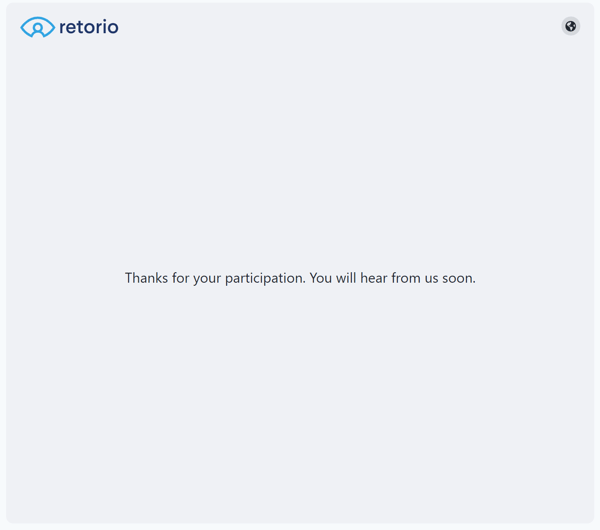 Retorio will show a placeholder thumbnail in the corresponding list as soon as a video interview session has has been finished. However, it may take some time until Retorio's output can be seen in the platform. Please note, it may take 15-30 minutes to fully process a video.


Important!
It may take up to 15-30 minutes to fully process a video.
We have various mechanisms in place to ensure no video gets lost.


_____________________


Wrap-up
Now you have experienced Retorio from the perspective of an assessment participant. In the next step we will show you how Retorio's AI assesses video interviews