Video interviews give you deep insights into the personality, skills, and behaviors of your users. Here is how to configure them
To analyze videos with Retorio you need to have videos. Retorio's video interview recorder collects videos of your users for you. In this article you will learn how to:

Where to Find the Video Interview Configurator
Any list in your Retorio account is connected to a video interview recorder. To configure a video interview recorder go to a list and click on "video interview".
Please note that the list "all recordings" aggregrates other lists. It will not allow you to generate video interviews.
The video interview configurator looks as follows: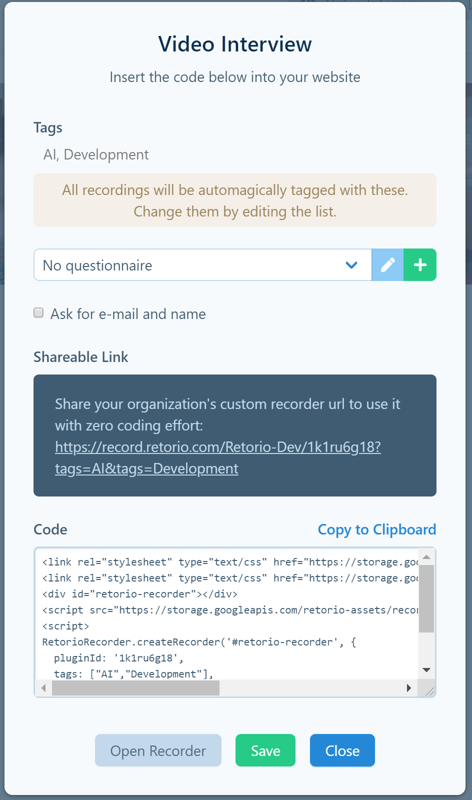 Make Use of Tags
On the top of your video interview configurator you'll see the tags associated with your recorder. Please note, if a tag is reused in another list, all videos recorded through this recorder will also be shown in the other list. This way you can include a video interview in several lists at the same time, for instance if you want to screen candidates for several jobs at the same time.

Attach Questionnaires
For each video interview recorder you can define questions for the participants of your assessment. You can either pick an existing questionnaire from the drop-down menu, or configure a new one (for more information, see our article about questionnaires).

Collect Contact Data
If you need to identify your assessment participants you can require them to submit their email address and name with their video interview. Just activate the "ask for email and name" field in the configurator.

Caution!
If you do not activate the "ask for email and name" field, all incoming videos will be denoted as "anonymous recordings" and you might face problems to identify the person in the video later on.

Invite Your Users to an Interview
The configurator will give you a link (like this one: https://record.retorio.com/Retorio-Dev/1k8o4lgle?tags=Testing) through which you can invite your assessment participants to the video interview. The link determines in which lists the video interviews will be shown. Thus, you can send the same link to all participants that you intend to compare with each other (e.g. for one open position).
The easiest way to invite your candidates to a video interview is to copy the invite link and share it with your candidates (e.g. by email).

Best Practice: A Simple Template for an Invitation Email
Hi [Candidate Name],
Thank you for taking the time to apply for our open position.
We're big believers in equal-access and seeing people for who they are and what they bring to the table, not their test scores. That's why we'd like to invite you to a video interview.

This is how it works: As any interviewer would do, we try to understand what makes you unique. However, we recognize that we bring our own biases and preconceived notions (we don't mean to, we promise). So we're doing something about it: all you have to do is answer these short, predefined questions.
You don't need special equipment
Try as many takes as you'd like, multiple attempts are fine
You don't have to download anything
By conducting a video interview you're showing us that a fair recruiting process matters to you. Additionally, you'll be able to receive faster feedback from us. Also don't worry about writing a cover letter---these questions help us get to know you in a more personal way.
[Link to the video interview]
Please open the interview with Chrome or Firefox on your computer.
We look forward to hearing from you,
All the best
[Your Name]

Use the Embed Code to Integrate the Recorder into your Website
(Only recommended for users with at least basic programming skills)
If you would like to manually embed the Video Interview recorder into another website (e.g. your career page or you intranet), you can copy the HTML snippet into the source code of your website. Please note that you can modify the embed code in order to manage your recordings. For instance, you can alter the tags in order to determine through your embed code in which list collected videos will be shown.
Tip: Using Iframes to Embed Retorio into your Website
You may also use <iframes> to embed the Retorio plugin into other websites. I this case you can copy the standard invitation link into the iframes code. Please notice that when you intend to embed the recording plugin as an <iframe>, you will have to enable the plugin to access candidates' cameras and microphone.

Example:
<iframe src="https://record.retorio.com/retorioservice/1k52llsyt?tags=Sales%20Rep&tags=ID12345" allow="geolocation; microphone; camera"></iframe>
Caution!
Please do not forget to save your generated video interview recorder before closing the video interview configurator. Also ensure you test the recorder before you invite users. Just click on the invite link and try it out yourself.
_____________________
Wrap-up
Now you know how to configure a video interview and how to share it with your users. In the next article, we will show you how you can set up questionnaires in order to ask your users questions that matter to you.